An ITOL Nationally accredited interactive self instructed training programme

This course combines an interactive self-instructed training resource and practical activities. The course aims to ensure that anyone may carry out an assessment of an unconscious patient, help stop severe bleeding, start basic life support and safely use an automated external defibrillator (AED).

This course is designed to enable all employees to take immediate action in a life-threatening emergency or when someone has suffered a cardiac arrest.

As cardiac disease is a major cause of death in the UK, we are promoting the implementation of automated external defibrillator (AEDs) in the workplace so any employee may start basic life support and use the AED. The early use of defibrillation and good BLS helps to save lives. The course also covers other life-threatening situations like severe bleeding and airway obstructions.

The aim is to provide a comprehensive but cost effective training programme for the complete workforce that enables them to undertake the techniques required to help save a life.

The course requires individuals to take part and practise using the resuscitation equipment, and the training AED provided.

The course may be used as initial training as a refresher or as part of an induction programme.

The interactive training programme matches the cost of most traditional courses; however, you get to keep the training manikin and training AED worth around £250, and have access to the course 365 days a year. So is much better value and proven to be as effective, if not more than traditional training.

What's included:

Interactive teaching guide covering all aspects of the training online

Training AED with remote control

Manikin with chest compression feedback
Training pocket mask
Manikin wipes
Practical BLS and AED assessment guide
CPD certificate
Course assessment:
Your progress is informally assessed during the course in the form of progress quizzes. This enables the delegate to check their understanding during the course. There is a knowledge assessment from a randomised bank of questions to ensure practical skills are supported with under pinning knowledge.
There is a formative assessment of skills at the end of the course. This is achieved by a process of peer assessment. Peer assessment training is also provided to enable this process to take a self-contained approach. The peer assessor training involves randomised scenarios and the delegates has to score these against a specific set of standards.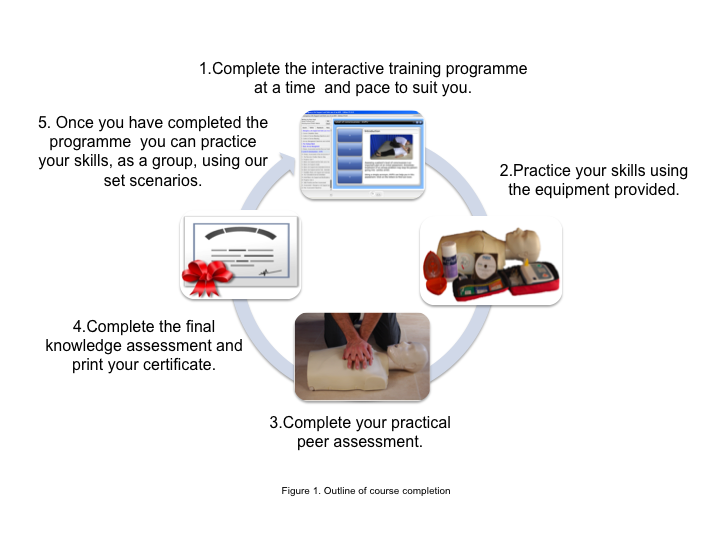 What does it cost and what is included ?
Introductory offer
One years training only £599+ VAT for up to 15 delegates.
May be used 365 days a year !!!!!!
Additional delegates only £15 + VAT per person.
Once you are on the scheme you save on training
costs ever year
Second years training currently only £199+ VAT
Call now to see how you could not only save money
on your training but
improve your skills and knowledge.
Tel 01935 706632.